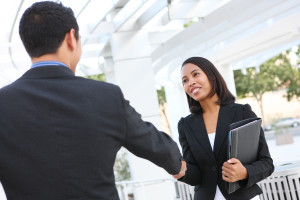 Are you considering buying a new car to debut in the warm spring and summer months? You're going to have to put your detective and negotiation skills in high gear because you will have a formidable sparring partner against you: the car salesman.  All of us have heard a used car salesman joke before. In television shows and movies, they are commonly characterized as swindlers. Now, of course, not every car salesman is deceitful. Most are honest, good people who want to sell you a good car.
However, you do have to remember that car salesmen work for commission, so they are going to put in a lot of effort to sell you a car and usually a higher priced one at a higher interest rate. Otherwise, they don't get paid. So, yes, they may have a little gamesmanship up their sleeve to get you behind the wheel of a car. eTags, a firm that specializes in online registration renewal services, recently wrote a post on its blog about some lies to watch out for when negotiating with a salesman.
You can read the post yourself for all of the details, but here are a few key points to keep in mind:
Don't sign a contract before you read it: This might not even be deception. People are human, and they may input the wrong numbers or make the wrong calculations. Be sure to review the numbers and terms yourself before you sign the dotted line.
Don't think you're paying the same price if your monthly payment goes down: Your dealer has a lot of latitude to offer a car at the monthly payment you want to pay. That's because, he or she can just extend the terms of the contract. Of course, this means that you will end up paying more for the car in the long run after interest.
Don't buy a vehicle if the low mileage is too good to be true for the price: It probably is. Odometer fraud is major problem in the industry. It's important to research beforehand and have a figure in mind for where the car should be priced at.